Diego's post got me to switch from grub-pc to grub-efi to boot Debian on my Macbook Pro. But I wanted to go further: getting rid of rEFIt.
rEFIt is a pretty useful piece of software, but it's essentially dead. There is the rEFInd fork, which keeps it up-to-date, but it doesn't really help with FileVault. Moreover, the boot sequence for a Linux distro with rEFIt/rEFInd looks like: Apple EFI firmware → rEFIt/rEFInd → GRUB → Linux kernel. Each intermediate step adding its own timeout, so rEFIt/rEFInd can be seen as not-so-useful intermediate step.
Thankfully, Matthew Garrett did all the research to allow to directly boot GRUB from the Apple EFI firmware. Unfortunately, his blog post didn't have much actual detail on how to do it.
So here it is, for a Debian system:
Install a few packages you'll need in this process:


# apt-get install hfsprogs icnsutils

Create a small HFS+ partition. I have a 9MB one, but it's only filled by about 500K, so even smaller should work too. If, like me, you were previously using grub-pc, you probably have a GRUB partition, you can repurpose it. In gdisk, it looks like this:


Number  Start (sector)    End (sector)  Size       Code  Name
   5       235284480       235302943   9.0 MiB     AF00  Apple HFS/HFS+

Partition GUID code: 48465300-0000-11AA-AA11-00306543ECAC (Apple HFS/HFS+)
Partition unique GUID: AD1F5465-B777-4178-AC4D-1DE8B2EB1B4B
First sector: 235284480 (at 112.2 GiB)
Last sector: 235302943 (at 112.2 GiB)
Partition size: 18464 sectors (9.0 MiB)
Attribute flags: 0000000000000000
Partition name: 'Apple HFS/HFS+'


Create a HFS+ filesystem on that partition:


# mkfs.hfsplus /dev/sda5 -v Debian

(replace /dev/sda5 with whatever your partition is)

Add a fstab entry for that filesystem:


# echo $(blkid -o export -s UUID /dev/sda5) /boot/efi auto defaults 0 0 >> /etc/fstab

Mount the filesystem:


# mkdir /boot/efi
# mount /boot/efi


Edit /usr/sbin/grub-install, look for « xfat », and remove the block of code that looks like:


if test "x$efi_fs" = xfat; then :; else
    echo "${efidir} doesn't look like an EFI partition." 1>&2
    efidir=
fi


Run grub-install. At this point, there should be a /boot/efi/EFI/debian/grubx64.efi file (if using grub-efi-amd64).
Create a /boot/efi/System/Library/CoreServices directory:


# mkdir -p /boot/efi/System/Library/CoreServices

Create a hard link:


# ln /boot/efi/EFI/debian/grubx64.efi /boot/efi/System/Library/CoreServices/boot.efi

Create a dummy mach_kernel file:


# echo "This file is required for booting" > /boot/efi/mach_kernel

Grab the mactel-boot source code, unpack and build it:


# wget http://www.codon.org.uk/~mjg59/mactel-boot/mactel-boot-0.9.tar.bz2
# tar -jxf mactel-boot-0.9.tar.bz2
# cd mactel-boot-0.9
# make PRODUCTVERSION=Debian


Copy the SystemVersion.plist file:


# cp SystemVersion.plist /boot/efi/System/Library/CoreServices/

Bless the boot file:


# ./hfs-bless /boot/efi/System/Library/CoreServices/boot.efi

(optional) Add an icon:


# rsvg-convert -w 128 -h 128 -o /tmp/debian.png /usr/share/reportbug/debian-swirl.svg
# png2icns /boot/efi/.VolumeIcon.icns /tmp/debian.png
# rm /tmp/debian.png

Now, the Apple Boot Manager, shown when holding down the option key when booting the Macbook Pro, looks like this: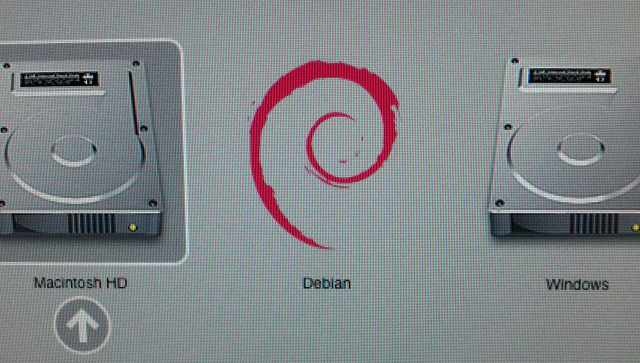 And the Startup disk preferences dialog under OSX, like this: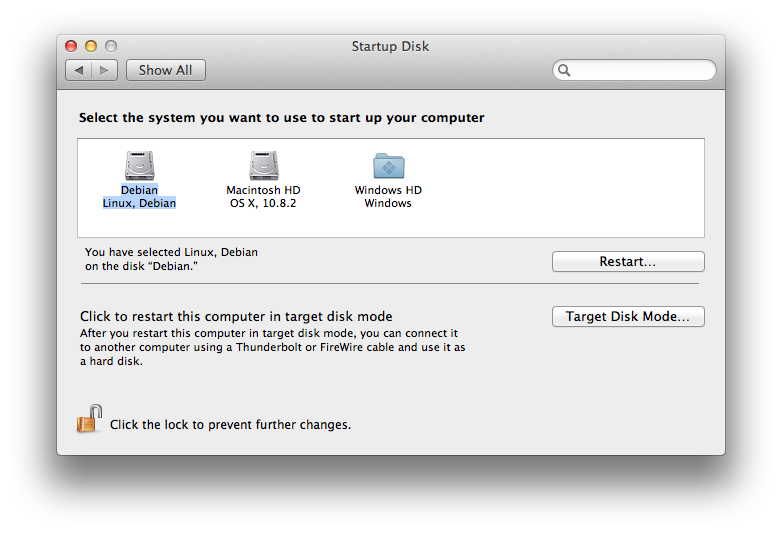 2012-11-18 11:18:14+0100